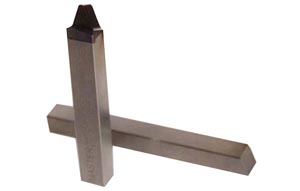 Oerlikon type Spiromatic blades (SKM1 & SKM2 Machines)
Oerlikon blades are produced for Spiral gear machines SKM1, SKM2. These cutters blades are inserted/ mounted on Oerlikon Cutter bodies EN, FS, ETC series.
For EN series blades, there are set of 3 blades A, V, I/J A (External cutter blade), V (Deeping cutter blade), I/J (inside cutter blade)
For FS Series blades, 3 x 11 = 33 blades as 1 set
We also have lot of inventory for new & used Oerlikon Spiromatic SKM1, SKM2 Cutter bodies.
These are largely used for generating bevels and pinions for varied industrial purposes and even for cutting Hypoid gears.
Our precision engineered blades are also supplied as per the requirements of the client. They are available in the following sizes: