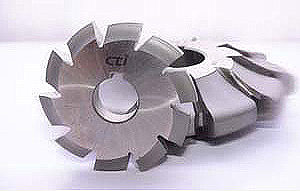 Capital Gear tools is expert in designing and manufacturing form milling cutters and helping to make your operation as efficient as possible.
CTI produces form milling tools for all types of applications based on customers specifications.
Spline Milling Cutters for Straight and Involute Splines with/without lugs.
Sprocket Cutters designed for cutting sprocket teeth of roller‐chain wheels according to BS, ASA and DIN standards.
Whether standard or custom non‐standard we have a solution for everything. We manufacture tooth‐form cutters, spline milling cutters and thread‐milling cutters to print.